Information Technology Management and Leadership Professional (ITMLP)
The ITMLP Certification Boot Camp workshop contains a collection of key IT topics designed to increase the effectiveness of soon-to-be, new, and experienced first-line IT Managers, by: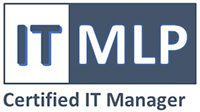 Widening their knowledge of IT
Discussing strategies to maximize user support and satisfaction
Providing insights into IT innovation and technology trends
Providing information on the use of various IT best-practices.
This workshop is not a replacement for your company's New Manger Training classes. It is designed to provide complementary topics specifically related to the IT management profession. These topics are listed below.
Developed by an experienced CIO, and then vetted by a board of senior IT industry executives, the ITMLP shows that those, who successfully complete Final Exam, bring credible and validated industry knowledge to the organizations they serve.
CIO.com selected the ITMLP and ITMLE as Top 10 IT Leadership Development Programs!
DAY 1: Technical Leadership
Life as a Technical Manager
Characteristics of Successful IT Managers
Making Technical Decisions
Managing Multiple Projects
Leading Local/Global Virtual IT Teams
Virtual Team Challenges
Work-At-Home Strategy Implications
Virtual Team Status and Profile
Team Communication
Using Virtual Technologies
Cultural Intelligence
Virtual Talent Management
Influence-Based Technical Leadership
Bloom's Core Influence Characteristics
Situational Influence
Cialdini's Six Principles of Influence
Cohen-Bradford Influence Currencies
Using Influence Within an IT Context
DAY 2: IT Methodology and Innovation
 Methodology Overview
Waterfall
Agile/Scrum
IT Infrastructure Library (ITIL)
Lean IT
DevOps
IT Megatrends
Digital Transformation / Digital Strategy
Virtual and Augmented Reality
Internet of Things (IoT)
Big Data
Machine Learning
3D Printing
DevOps
Cybersecurity and Privacy
Other Key IT Trends
Creating Innovative IT Solutions
Thoughts on IT Innovation
The Innovation Process
Root Cause Analysis Tools
Brainstorming Tools
Selection and Prioritization Tools
DAY 3: Business of IT
IT Funding and Cost Center Management
Project/Production Team Mathematics
Components of your budget
IT funding and allocations
Annual budget process
IT budget issues and tips
IT Vendor Management
Providers and strategic partners
Considerations when selecting a vendor
Vendor management life cycle
Vendor oversight
Outsourcing and cloud considerations
IT Internal Client Service
User Experience
Internal Client Service Concepts
Managing Client Satisfaction
Managing Client Expectations
Measurement and Prioritization